When it comes to getting the most for your money, chain link fences are the way to go. We offer a range of chain link options that provide great results with both price and maintenance. Chain link fence is perfect for both home and commercial use, offering practical solutions for everything from fencing in the backyard to ensuring swimming pool safety (with an optional childproof lock).
Chain link fence has protected children and pets in backyards, secured industrial property and school yards for many, many years. It is known for its tradition of value, strength and durability. With a chain-link fence, you can keep an eye on children at play and keep your pets safe in your yard.
Chain-link offers long life and a cost-effective product mix. We can help with your chain link fence material needs, whether it's a simple back yard fence for the dog, enclosing a pool area or securing your business, we have the products and knowledge to help. Our professionals are ready to help you by building a long-lasting chain link fence to enjoy for years to come.
Our chain link fence is available in many options.  You can choose an all galvanized system, all vinyl-coated system or standard galvanized framework with vinyl coated mesh.  Chain link fence is durable, weather resistant and available in brown, black, green and white vinyl coatings.  For additional privacy, we offer permahedge, aluminium and plastic privacy slats that come in a wide array of colours.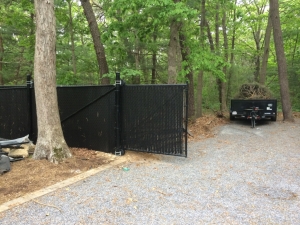 We price our fencing and installations fairly.  Making sure the job and quality of work is done right the first time out. Give us a call today at 631-851-9730 for a free on premise estimate.  Thank you for considering Robert's Fence Company.