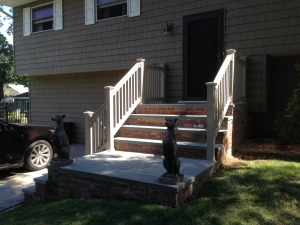 We use only the highest quality PVC railing.  These railings come in many designs and colors to match your home. If you consider the cost of installing wooden railings along with the future costs of painting and repairs it's obvious that vinyl is the better investment.
Vinyl railing clearly has the edge among other products in maintenance and durability. They last a lifetime without the need for much maintenance AT ALL. Just a light cleaning every now and then to remove dust and loose dirt will keep your vinyl railings in the most desirable condition. Plus, vinyl railings are weather and termite proof. Wood railings on the other hand need to be sealed, stained, and painted on a regular basis.
If you have any further questions on our PVC railing, give us a call today!  Our professionals will be more than happy to assist you.  We can set up for a free estimate at your earliest convenience.  Thank you for considering Robert's Fence Company.